So what exactly did I want in an observatory?
A few people have asked, quite surprisingly to me, what kind of observatory I was "letting go" from my long-term goals. Most plebes think an observatory is simply a place to put your scope and observe the sky, and while they are not completely wrong, it is much more complicated than a simple "location-based" definition.
So, let's start with what I have as a scope:
That set-up is made up of nine things:
A physical site:

A location to do the viewing, preferably with dark skies (this picture is taken at the inlaws' cottage in front of a lake and big open skies to the west);
A flat platform for the equipment all to rest upon, along with vibration suppression pads under the tripod legs; and,
Some sort of limited area around the space;

Observing mechanics:

An optical tube — the orange part, which is a Schmidt-Cassegrain telescope (SCT) design;
A mount — the small black base with a computer in it and an arm that rises up from just below the tube to attach at the far side of the scope; and,
A tripod — the silver part, with the three legs fully extended;

Accessories:

An eyepiece (black with green banding at the top back of the scope);
A power source, which is a portable power tank (this model is very similar to a car battery); and,
A place to hold accessories, which is a flat area just below the black mount, very hard to see in the photo although there is also a table out of range of the camera;
For most observing, the parts are inter-related. If you are away from power, you'll want a portable power tank; if you're in your backyard, you can run an extension cord. If you are using a permanent observatory, you'll likely mount your scope on a cement/concrete pier; if you are travelling, you'll likely use a tripod that expands and folds.
A physical site for observing
The three groupings mentioned above are done in "sub-bundles". For observatories, the location, the space, and the platform all go together, with three standard options.
i. A prefab structure with a dome structure
These are usually tight little designs with an opening on top, and a swivelling roof that you can open (so the scope can see out while blocking any light from the sides) and rotate in any direction. But if it looks tight, it is because it is. Note the little handle on the front panel — that's your door, and you have to duck under the roof rim to get in there. Plus, once you're in there, it's pretty cozy. And that is usually starting with an 8'x8′ footprint.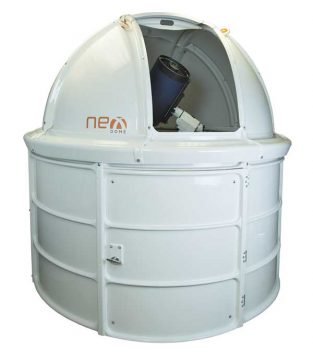 ii. A small shed with a roll-off roof (RoR)
These designs are incredibly prolific with tons of different layouts and designs for how the roof rolls off, whether it is motorized or not, how it slides, what angle it slides off at, etc. Companies like Sky Shed will sell you domes like above, or plans, or kits, or the whole shebang together, and you can even hire someone to come and do it for you. The size of the footprint varies, but most occupy at least 8'x8′. Many are 10'x10′. Some are modified and are only 6'x8′. Usually they have the same basic layout — a box shed, with some arms out to the side where the roof "rolls" to, exposing the interior of the building to the night sky.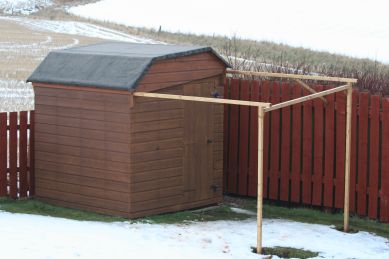 The buildings can be anything from a basic shack to a really nice looking cabin. But generally, they are all 8'x8′ or bigger. But note the "frame" beside the building — this is where the roof rolls/slides "off", so if you have an 8'x8′ structure, you need an empty 8'x8′ space right beside it. If you use the dome (i) above, it just rotates, so it holds to the 8'x8′ space.
iii. Some sort of roll-away building
Option (i) swivelled the roof; option (ii) slid the roof to the side; option (3) moves the whole building out from around the scope. Some people call them roll-away observatories. Others call them outhouse observatories as they are often little tiny, outhouse-sized buildings sitting tall around the scope. Others go with a birdhouse design (single pier coming up, and then a box around the scope) and they are called motel-o-scopes. For me, it is more like a phone booth. You open the door, your scope is inside. If you want to use it though, you roll / slide the phone booth out of the way and there's your scope left sitting by itself on some sort of stand (usually a pier). Here's a typical outhouse style.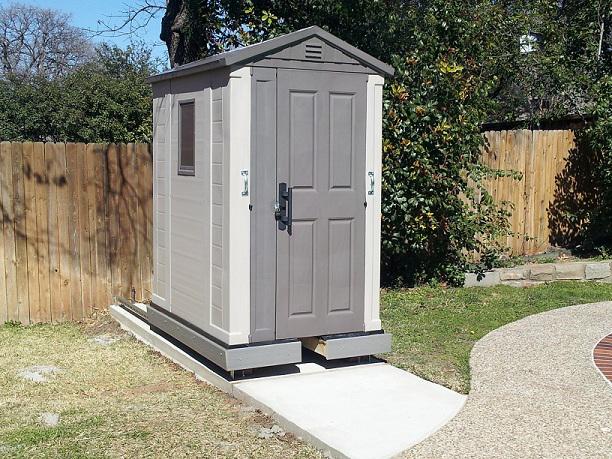 The image isn't entirely fair, it's a 4'x6′ which seems pretty compact, right? That one is actually even larger than most, there are more compact designs. But you can see that the rails behind it, where the whole thing would move backwards and the scope inside would seem to "slide out" the front (but of course it doesn't move at all, it's fixed, it is the building that moves). By contrast, motel-o-scopes usually look like this with the top coming off:
Some people go for a full prefab metal one, with a similar footprint to the outhouse:
As you can see, they're not that attractive usually. However, there is also something lost in translation for a lot of these options, which is that while you can build small observatories, the actual size and the functional size are misleading.
Most astronomers don't spend time in their small observatories
For the domed option, and the small-footprint ones above, the observatories are mainly just for imaging, not visual observing. They set up the scope for the roof, angle, etc., and then go work their laptop. Likely from inside the house or at least from some place warm. They basically use their observatory as a "remote viewing" option. Perfect for imaging / astrophotography.
But they rarely if ever do visual observing with these set-ups. Why? Because the dome and the closet-sized ones are too tight to move around in. The big huge ones will do both, but the smaller ones are mainly for imaging.
Can I use a small footprint observatory? Not really. I am mainly a visual observer. I do a bit of dabbling in astrophotography, but I primarily want the observatory for visual. Let's look at the options.
Roll-off Roof
Dome Roof Observatory
Motel-O-Scope/ Outhouses
Telephone booth hybrid
Size
Often 8'x8′ or greater
8'x8′
2'x3′
~4'x4′
Uses
Visual or imaging
Imaging
Imaging
Visual or imaging
Capacity
Scope
Tripod or pier
Electrical
Lighting
Accessories
Desk/Table
Scope
Pier
Electrical
Scope
Pier
Scope
Pier
Electrical
Accessories
Design
Prefab or custom
Prefab
Custom
Custom
Appearance
High-quality
Mechanical
Functional
Functional or basic
Cost
$$$$
$$$$
$-$$
$-$$$
My options for just a slab
As I have already mentioned, I don't have room in my backyard for an 8'x8′ footprint (dome) nor twice that for one with a roll-off roof. I would absolutely love a full-sized 8'x10′ observatory, complete with a roll-off roof, maybe even a modified roof that would allow partial opening rather than full roll-off. Maybe walls that lower to ensure full horizons, although, in my backyard, that wouldn't be necessary (even if I lower the walls, there are houses at the angles). I'd even love to raise it up a bit. Have space for some chairs, a table, maybe my laptop. A place to properly arrange all my accessories. Electrical power, fans for the summer, heaters for the winter. And lord, the ability to use it in the winter would be heaven. No shovelling snow to have space, no setup in the freezing cold with bare fingers and a metal telescope, I could just get everything ready to go, open the roof, look for a while, shut it back up, and go inside for cocoa. Out of the wind, away from the elements. A permanent place with lock and key, maybe even a security system, a place for everything and everything in its place. Ah, the dream.
Now, as I said last week, I knew generally that I could never have one of those full-sized observatories. But I had a small niggling hope that perhaps I could come up with something with a small footprint that would work. With some planned yard work including some flowerbeds, I wondered if perhaps we could upgrade my viewing options and start with a slab.
My tripod has a 43″ inch spread from leg to leg, and if you draw a line from one leg to another, and then bisect that to go to the third leg, the distance is 36″. In other words, if you put the two back legs against a wall, the front one will stick out about 37″. Alternatively, you can think of the tripod lying on the circumference of a 5′ diameter circle for it's footprint. And it is those outer points of the legs that present the biggest challenge. Normally, if the scope is in line with a tripod leg, it's a bit annoying to get close enough to the scope to see properly. The tripod leg is in the way, you don't want to risk kicking it, and if you are crossing over from one area to the other, you want to be able to do so easily without backing into things behind you either.
If you think of the tripod and the viewing circle, and place it in a standard 6'x6′ slab, you get the following layout. The green is the available space (slab), the blue triangle is the direct area covered by the tripod, and the orange area represents what happens if you setup the tripod randomly in the circle (it would circumscribe the orange circle). As you can see, there is not a lot of space outside of the orange viewing circle, and within the circle but outside the triangle, different spots are tighter fits.
This suggests that a 6'x6′ slab is not likely to work. I'd likely need something larger. But the larger it gets, the more real estate I'm taking up in the backyard. And the best spot is right in the way of everything else. So I started thinking about the layout of the tripod.
Someone online noted that he set up his tripod in a specific way each time. So in a sense, the orange circle is less important. He put the two legs farther to one side, centred the rest, got a perfect set-up for everything, and then actually marked and drilled holes in his cement slab where the legs were sitting so that EVERY FUTURE time he set up, they'd be in the same spot. With the same 6'x6′ slab, it would look more like this:
For those into math, he was trying to centre a weighted average of the tripod dimensions over the centre of the square. I got to thinking maybe I could do the same. I could set it up so the slab would not be proportional for ANY and ALL setups, but rather just right for ONE specific setup in particular. Since most of my viewing is to the south and west, I could choose the orientation that would give me the most room for THOSE directions, while minimizing the viewing space on the right. If I did it to an extreme, I could put the tripod all the way to the SOUTH and WEST corner, leaving me all the space at the NORTH and EAST corner.
But in my backyard, I could only see three places to put that slab:
In the centre of the yard, messing everything up for everyone;
At the bottom of the stairs, also messing up most of the backyard usage; or,
Next to the stairs, off to the side, a possible 6'x6′ space, with me eating up 2'x4′ of dead space that will likely to become a flower bed and another 4'x6′ of lawn space.
Unfortunately, the more I worked on that last option, the less enamoured I became. It is really close to the back fence, a tight space, and not that great for viewing to the west. I looked at it again tonight, just to refresh my memory, and it isn't as bad as I thought since it opens up some sky to the east. Of course, any viewing to the east or west is problematic because I'm viewing over top of houses that give off heat, but I also lose a small chunk of valuable sky to the south-west where I'm frequently trying to capture planets in the 10:00 p.m. to midnight window.
I hemmed and hawed, hawed and hemmed, gotta be this or that, and I decided no go. It would just seem too claustrophobic jammed in there behind the scope and tripod.
When ideas lead you down garden paths
The pandemic has been kicking my heinie for work or lack thereof, and I have a bit of cabin fever. So when a simple brain fart happened, I forgot my "it doesn't work" analysis and conclusion above and let the idea lead me astray like a wicked temptress in a seedy bar.
So, let's recap. Big RoRs are out; domes are out; small footprint ones for imaging only are out. I can't find a setup that is the right size to leave my scope in all set up either, not easily. A slab in that 6'x6′ spot wouldn't be great, but what if I just put a storage shed there. I had looked at some pre-fab sheds and even found a couple that would seem to fit the bill.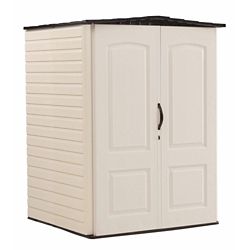 I was thinking I could put this in the 6'x6′ space, store all my gear in there, pull it out and use it, save me lugging back and forth to the garage. Andrea was worried about the soccer ball hitting it, which is admittedly not ideal, but as long as my scope wasn't against the walls on the inside nor were we talking about kicking it against the building repetitively for hours, my gear would be fine. I found another one, slightly different design, maybe it would work too. I figured Andrea could choose which one looked better to her.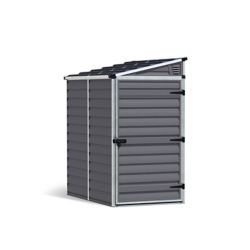 It has the slightly wrong orientation, but it's a different style design, either could be fine. And then I realized something.
While both fit the 6'x6′ footprint, they are taller than I need. I basically need 5′ to clear the top of my scope. 56″. These babies? Over 7′ to the peaks. In other words, not only way higher than I need, they would even go above the fence line and REALLY blocking the view from our gazebo. It would even be starting to block our view from the house.
So, again, I ruled them out. I wasn't that initially invested, it was just a storage shed.
Until I got ANOTHER brainwave. Much of that "space" consideration for a slab, i.e. the square/circle/triangle diagram above is controlled by the triangle. How much space my tripod covers. But I don't need to set up my tripod if I'm doing an observing space that was out of the way. I couldn't put a pier on a slab in the middle of the yard or in the middle of the stairs area, but over off to the side out of the way? I could, in fact, do a permanent pier. If I used the same 6'x6′ space, I could use a pier and have a layout that would be more like this.
6'x6′ footprint, represented by the green. An orange 6′ diameter viewing space since there would be no tripod legs in my way. And a blue pier 4″ in diameter in the geographic centre of the working space. Lots of space to move around it, not claustrophoic at all. Wait a minute, sister, we might have a winner!
I thought I was on to something
As I said, I got excited. The slab area doesn't work well, that's still mostly true. But it occurred to me that if I was to raise the level of the viewing area to match the deck by essentially extending the deck into that space, and raising the pier up by another 2′, I could have a pier up through the deck extension, a 6'x6′ viewing area around it, plus an opening behind me to the main deck, so I could either centre the pier or shift it slightly off-centre reflecting that extra viewing area on the deck.
My brain started to explode with possibilities, and reality was NOT filtering any of them down to viable options. I toyed briefly with the idea of putting some sort of building like the sheds above, prefab and cheapish (relatively speaking). But I was already going to have to pay someone to build a deck extension that would require 2 posts plus the pier for holes in the ground, permit approvals too. Plus pouring the pier itself, including specifications to embed some metal rods to use to attach the telescope mount. I averaged it out to the 56″ height I have now for the tripod, add a couple more for the tube to overlap, call it 5′ total, with the pier portion likely representing 3.5′ of that 5′.
Right, so the prefab buildings were too big. And too expensive. One is almost $2K all on its own, not counting the build of the deck and pouring the pier. I'd also have to modify the shed to be removable. And, oh yeah, they are probably too high.
But I've researched a lot of options for those outhouse-style observatories. Or the telephone booth design, as I like to call it. Could I do one that would allow me enough space to cover the scope on the pier (5′ tall, 2′ wide) and maybe have some room for some accessories, a shelf or two, and wheels for it to roll away on? I could. I even have a couple of ideas on how the walls could hinge to open around it like a telephone booth door, turn and roll away onto the deck out of the way. It could even block light or wind from various directions if I need it. Let's call it maybe 2′ x 4′, or up to 4'x4′, opening up to a small "temporary wall" of 2'x8′ with all my gear hanging on it. Glorious idea.
My friend Stephan knows someone who does custom work, they could likely do the deck and the pier easily enough, and would be willing to build me a shed on top. Except that "custom work" adds up way too fast. As much as I would like it, it just stacks the cost too much.
I stepped back and went through all the steps I would need to do the custom shed part myself. I would still need someone to build the deck extension and pour the pier, but the rest? I could just about handle it all myself. Maybe with a little design help online.
I found a design that was similar to what I have in mind, a guy made it in the local club so I could likely go to his house even and take measurements. And I very excitedly showed it to Andrea.
Who pointed out that it was ugly. Which it was. Kind of like some of the ones above. But the worse news is that his "ugly" one was WAY nicer than anything I would ever come up with. If she thought that one was ugly, my version would be an eyesore. Sigh.
So I went back to trying to contain the cost with an existing prefab. It would be hard to modify and put wheels on, but I gave it a go. All of the options were either too short/tall, ugly, or expensive. Or all of the above. One had some potential, but the shed itself was more than $2K, AND I would have to do a bunch of custom work just to get it to fit.
Then I realized too that basically NO option was ever going to work in that space. Even if I held it to only 5′ high, it's going to be higher than the fence line when raised up on the deck (which is 2′ off the ground) and higher than the shed that was just going to be on the ground. That one got ruled out because it would block the gazebo and house views; this one would block it even more. Well, fiddlesticks.
And that is where I crashed hard. The re-ignition of a dream, a possible way forward, cabin fever, and a working solution that I came up with on my own got me REALLY excited. Too excited. I should have known better than to let my hopes run free. Particularly in the world that we're living in right now.
I am still playing with secondary options
I really struggled to pull myself out of the letdown phase. Particularly as even if it was feasible, I don't have the skills myself nor can I afford the extra cost to make it look "nice" enough to proceed.
I haven't completely given up on the idea of a 6'x6′ viewing area there, with a pier. I just can't have it as a permanent observatory with a building. Going back to that initial definition, yes to the neighbourhood, yes to the backyard, meh to being over to the side but I can live with it, yes to a pier rather than tripod legs, and yes to a metal plate on top that I will attach my mount to for holding the tube.
The difference is that I will just have the 4″ pier (or whatever size is appropriate), and the plate, and nothing else there most of the time. When I want to observe, I'll attach my mount on to the pier, and the scope on to the mount. When I am done for the night, I'll take everything off, and rather than putting any sort of "box" around it, I'll just put a pier condom over it (like a wet bag) to keep everything dry. It'll be about 4-5″ in diameter, maybe 3.5-4′ tall, and that's it. I'll have to put a chair or something in the way so people can't hit it. Or I could do what some people do and put a small tabletop on it to use for drinks and things, make it look like part of the deck. It's an option at some point to consider. Not a full observatory, but a pier isn't a terrible compromise. I could settle for the slab and pier, but I think it would be way too tight. I'd have to decide if that was worth it or not. Regardless, it's an upgrade to have a stable pier over tripod legs.
Since one of the limiting factors is the time it takes to move all my gear from the garage to the backyard, I looked into an option to have a storage shed on the deck, back out of the way, not blocking any view, maybe something big enough to put my scope in that I could open up, pull out my scope already set up and be good to go. None of the pre-fab buildings fit the space, nor can I build anything nice enough myself. I could consider having something custom built there if I don't do the deck extension, but I'm not thrilled by the idea of storing my gear there if I don't get a huge improvement in my set-up time.
So I have also been actively looking at wagons. I think I have one that will work for me, and I even found a Canadian distributor, finally. That was surprisingly harder than I expected, but it's worked out now. I found a few distributors, but they looked sketchy — websites with no physical location behind them. Selling garden equipment? Nope. I had to compromise on the version, not exactly the model I want, but it works, and it is $250. No rush to get it though as I would have to have a place in my garage to park it and be able to load everything into it while still being able to lock stuff up easily plus keep it all clear of dust, etc. I would prefer not to have to back my car outside to do it, that's partly how I ended up not closing the door and having stuff stolen, but hopefully once bitten, I'll be twice smart enough not to leave stuff open to being stolen so easily. But on the positive side, building a small "hut" in my garage is about functionality, not "look and feel", and my skills can handle that at least. It won't be pretty but in my garage, it doesn't have to be. When I'm ready to do that, i.e. after cleaning a bunch of crap out of the garage and clearing enough space for everything, I can do all of it myself. Nice.
I still have to look into the tips for letting go more, even after I've negotiated myself down to something better than what I have now, and I'm still going to look into easy-to-access sites within 20 minutes drive of my house to give me better viewing options. But the observatory idea is dead; I'll have to settle for being able to improve my options.